Lightweight kiln cars for U-cassettes
Overview
Manufacturing roofing tiles in U-cassettes is the most cost-effective way for large production through factory automation. This U-shaped kiln furniture is used for firing groups of unglazed roof tiles in a vertical or horizontal position. The system requires less investment than the alternative that uses H-cassettes.
Cerámica Campo and Forgestal (engineering partner) meet the needs of the heavy clay industry around the World with specific and made-to-measure kiln cars systems for U-cassettes, made with high quality refractory linings.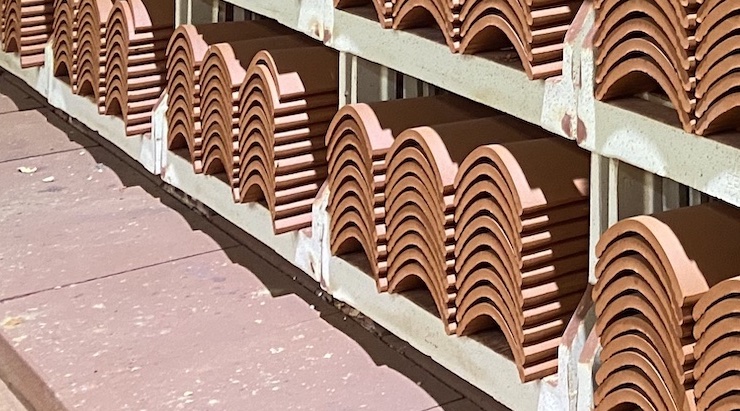 Challenges
In a typical plant that uses U-cassettes for the handling of roofing tiles, optimizing the loading of the kiln car allows large load heights on the fire car.
The construction clay industry is increasingly demanding larger U-cassettes (with a greater capacity to load tiles inside) allowing faster automation. In addition, the trend for state-of-the-art robotics requires greater precision in handling.
For this automation, the use of large U-cassettes requires firm and precise bases to guarantee a stable support, preventing the columns from wobbling due to uneven support during the loading, drying, cooking and unloading cycle.
In addition, the tiles are fired very quickly in short cycles, so the kiln car must have the right thermal behavior according to the density (tiles/car) of each load.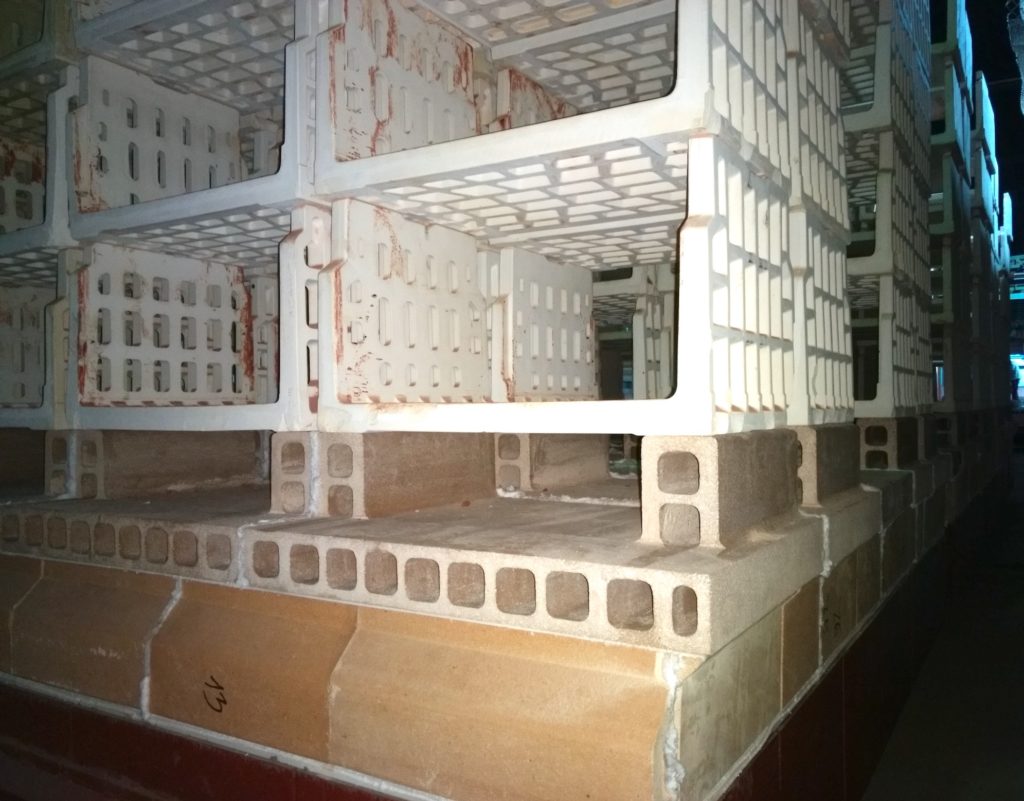 Solution
Cerámica Campo and Forgestal (engineering partner) design and produce the kiln car as a complete system with specific all-in-one U-cassette support.
Our solution for kiln cars with U-shaped (or ribbed) cassettes is based on:
Light-weight kiln cars, made of hollow refractory bricks, hollow perimeter blocks and special tailor-made linings, for any U-cassette setter. The superstructure is filled with special crushed refractory aggregates (siliceous and aluminous pozzolans).
U-cassette support all-in-one. Provides improved stability and precision when compared with existing solutions. All four feet of the lower setter are supported on a single, precision-ground, refractory hollow brick. The extrusion process allows pieces with large base surface fitting any existing U-cassette on the market.
Made-to-measure bricks. Our

extrusion system

allows for flexibility in the design of unique pieces within affordable budgets.
High quality refractory linings with mixes composed of refractory chamotte, refractory clays from our own quarries and special additives.
Mechanical grinding for extreme accuracy when flatness is a must for U-Cassette handling.
The design, supply and assembly of chassis can also be offered as a part of a complete turnkey service. For existing kiln cars, new linings can replace the old ones partially or progressively.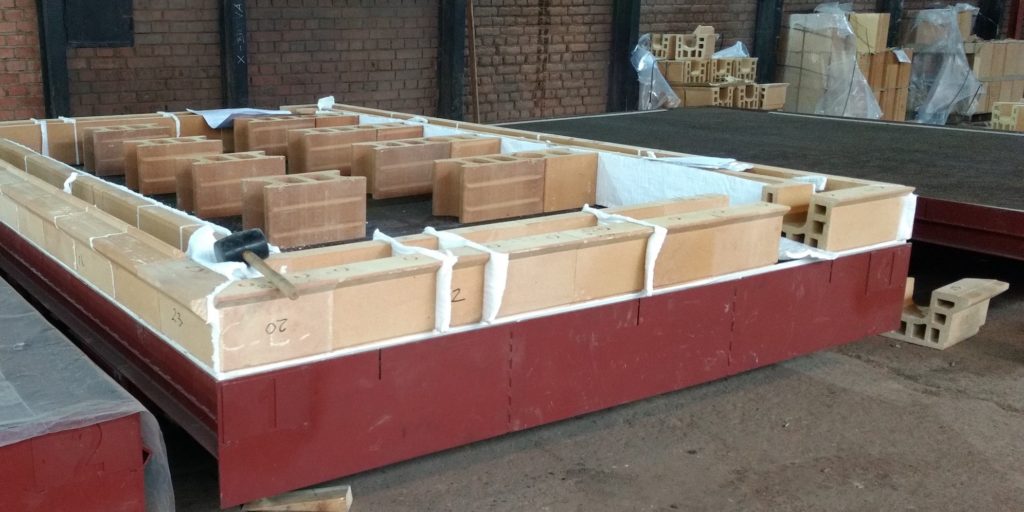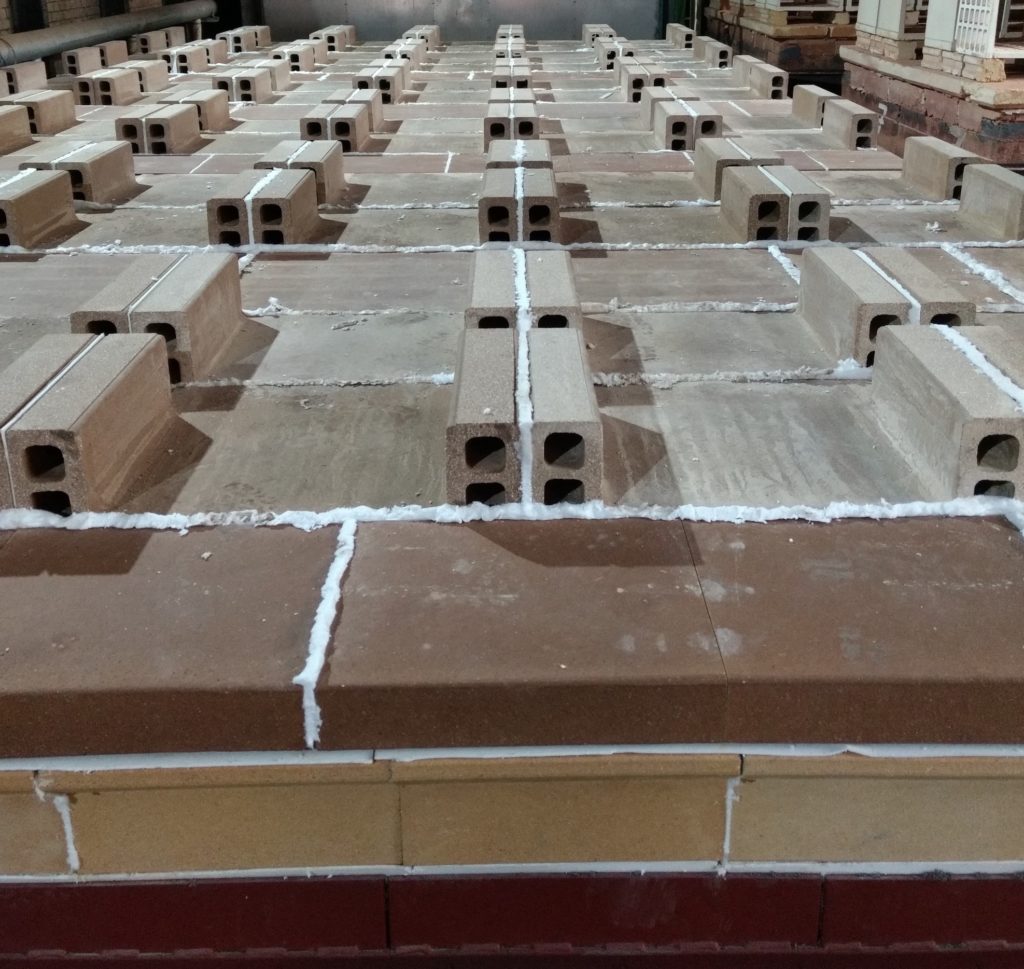 Refractory hollow bricks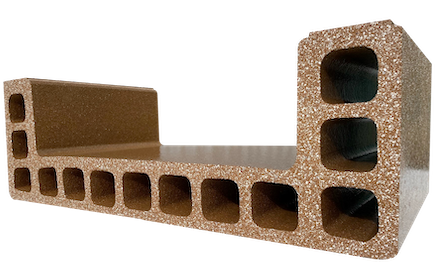 Result
The kiln car matches the criteria of any clay industry focused on producing high quality roofing tiles. The U-cassette fire car with our solution gets:
Significantly reduced energy consumption in the kiln thanks to the use of light-weight cars. Low thermal inertia for the overall kiln car means less mass to heat up and cool down in the process.
High precision in cassette setting, as well as a smooth handling. The all-in-one U-cassette support provides improved stability and precision when compared with existing solutions.
Additional results of our lightweight fire cars for U-Cassettes:
Better accuracy for loading/unloading mechanisms.
Overall improved maintenance at the facility.
Improved consumption of wear parts (U-cassettes).
Disclaimer: Every plant and every thermal process is different. Static, dynamic and thermal conditions require the selection of the appropriate design and refractory material.
Contact us
If you have specific questions and would like to reach one of our engineering specialists directly, please use our contact form on this site.
We will be pleased to help you!